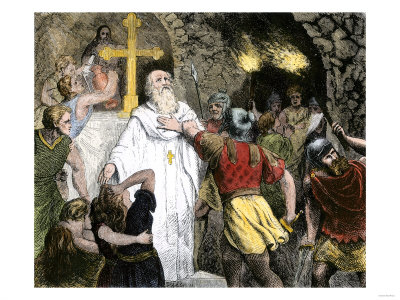 Back to where we started? Christians arrested during Mass in the Catacombs

Remember how the secularists tell us believers that they just want religion out of the public space, but we are quiet free to practice our beliefs privately and behind the closed doors of our homes? Well, we don't swallow that one nor agree with it, but if were to take the secularists at their own word, we see that they really don't mean what they say: and
here is a good example
which proves that point: a Californian family have been fined for hosting a Bible study group in the privacy of their own home.
So now, dear people, did you ever think you needed a permit for a private prayer group at home? Do we now need a licence for the family rosary? Perhaps even planning permission for the May altar? And, God forbid, perhaps even an act of parliament to permit a house Mass! Ah, the freedom our friends the secularists offer us! Where would be be without it? Free, that's where!
On that note: anyone interested in starting St Genesius prayer groups in the home? Get a few friends together for the rosary, some prayers and friendship? If so give us a shout:
info@stgenesius.com
.