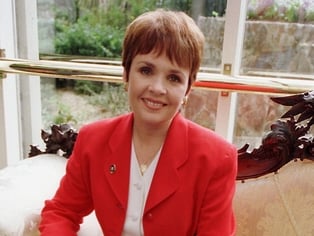 It seems everyone is throwing their hat into the arena for the Presidential election next month. Yesterday Dana said she intended to give it a go: fair dues to her. I do not know if she will get anywhere, the main political parties tend to have things sewn up when it comes to the nomination process.
It was Dana who broke the party-only system of nomination in 1997 when she approached the County Councils for a nomination - under the Irish Constitution to be nominated as a candidate for the presidency one must get either twenty members of the Dail or Senate, or four County Councils to back you. Until then this right had never been availed of and so Dana was responsible for allowing the local authorities to exercise that right for the first time in the history of the state. She did very well in that election, coming third. When she tried to go again in 2004 the political parties imposed the whip on their members in the County Councils, so once again they were unable to exercise their democratic right.
This time round some Councils have backed candidates, but Fine Gael has imposed the whip to prevent their councillors from exercising their right. I hope Dana gets the nomination, indeed the presidency might be a fitting reward for a woman who, in her political career, tried to uphold our Constitutional rights - after all, isn't that one of the things our President is supposed to do?
In the meantime, we'll all come behind our own Caroline McCamley
who has announced
on the St Genesius Blog, her own intention to run. No shrinking violet our Caroline would make a superb President of Ireland, there would be no messing there - a woman we could rely on. So now, I suppose there is no better way to start the campaign than to take up a collection.....