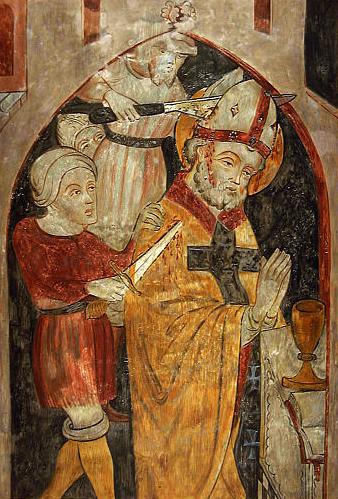 This is one of my favourite feasts of the Christmas season - I love them all, but this one, St Thomas a Becket, just seems to have a special resonance for me for some reason.
I remember visiting Canterbury Cathedral on this day a number of years ago and spending some time in prayer at the spot where St Thomas was martyred. The cathedral is no longer Catholic, it is divested of its ornaments and the offerings of grateful pilgrims and it is more a museum than a shrine now. A lonely candle marks the spot where the tomb of St Thomas stood, the goal of men and women who walked from all over Europe for centuries. St Thomas's body is missing: some accounts say the monks managed to hide it before Henry VIII's iconoclasts arrived, some suggest the body was burned as were the sacred remains of many Saints in England during the religious revolution.
Some fragments of his relics remain, on the day of my visit I carried a relic of the martyred Archbishop in my hand, a precious gift which I cherish. Other relics are preserved in churches around the world, including the Catholic parish church in Canterbury, now the shrine of the Saint.
St Thomas was an extraordinary man. He was for most of his life a man of the world, an ambitious man who courted royal favour. His efforts succeeded in both temporal and ecclesiastical terms: he was appointed Lord Chancellor of England - the highest office in the kingdom, and then Archbishop of Canterbury, the then Catholic primate of England. He was a friend and companion of King Henry II who conferred offices and favours on Thomas for friendship sake, though Thomas proved to be an able administrator.
When Henry had him appointed Archbishop he did so in order to have more control over the Church in England. As we know it has often been the desire of secular rulers and governments to control the Church, even today. However this move would backfire on the King, he had forgotten about God and Thomas's faith - though that faith had been hidden away and long neglected. His ordination as priest and bishop and the realisation of what was being put into his care led to a conversion experience for Thomas and he was forever changed. Now he was no longer the pawn of an ambitious and controlling King, he began to defend the rights and freedom of the Church. He turned to prayer, grew in virtue and practiced mortifications, wearing a hair-shirt under his clothes. We all know what happened: conflict with Henry, exile and eventual martyrdom at the foot of the altar in Canterbury Cathedral on this day in 1170.
Thomas is a figure of hope for us, one who reassures us that God's grace is at work in us and in all, even in our enemies, calling us all to conversion, fidelity of life and witness to the Gospel. At the end of the day God is in charge, and even if his ministers fail to live up to the Lord's will and commands, God will not fail, he will deliver his people. Wasn't that the message of the Prophets? Wasn't that the teaching of Christ? Our Lord offered his life on the cross so we could be free to live according to the Gospel: his blood was not shed in vain. At times the blood of his faithful ones will be mingled with his, and that commingling yields great fruitfulness and we are confirmed in our faith, strengthened and encouraged to bear witness ourselves, regardless of the cost.
May St Thomas a Becket, servant of God and his Church, watch over us in these times. Like him may we all be converted to the Lord and bear faithful witness to the Word.
A candle marks the spot of St Thomas's tomb in Canterbury Cathedral