Thank you for your prayers over the last few days.
It seems a number of you worked out what the situation was as some contacted me to ask if they could help.
It was all much appreciated.
We were trying to save the relic of St Vitalis which was coming up for auction in Duleek and which was sold yesterday.
Unfortunately, despite the prayers, we failed.
I do not know who bought the relic, but we can only hope it will be respected.
The modern trade in relics is positively medieval and shameful; it is also a big business and deeply offensive not only to the Church which cherishes the sacred remains of her Saints, but to every human being as human remains which should be respected are traded on the open market.
Ironic isn't it: many reject the Church and her teachings and her Saints, but they still want her treasures, including the relics of her holy ones.
A number of us formed a consortium to see if we could save the relic.
We found ourselves in a tight spot because Canon Law forbids the sale of relics, but allows for an effort to buy them if they can be saved from desecration.
We contacted the auctioneer and made an offer, but he refused to entertain any offers – the head was going to auction regardless.
That led me, personally, to conclude that there were other issues at play here apart from selling the skull.
We could not contact the family who were selling it – their identity was protected – as it probably needed to be.
We then got some money together and tried to make some effort to buy it at auction.
With an eye to Canon Law we recognised that morally we could not fuel a frenzied competition, and so we limited the amount and left the rest in the hands of God.
We failed, but we still leave the matter in the hands of the Lord and his providence.
Were we justified in doing what we did?
Yes, we fulfilled the narrow condition laid down by Canon Law and we were trying to save it.
What really got us going, and fulfilled the criteria, was our discovering that it was being suggested on gay websites that a gay sauna buy the relic for exposition in the sauna, since this St Vitalis was being described as the patron saint of genital diseases.
I was appalled when I read this, as were others and we were determined to do something to prevent this.
If a gay group had attempted to buy the relic, I hope they failed in their bid.
All that said: who is this St Vitalis, an unknown saint who has now achieved fame, or notoriety, on the web?
There are a number of St Vitalises (?), and while we do not know which one the skull belongs to, he is not the one the auctioneer and news reports say he is.
According to the reports it was the skull of St Vitalis of
Assisi
(1295-1370), an Italian hermit.
He is the patron of genital diseases, but he is not a martyr – the skull, if you take a quick look is identified as being that of a martyr.
So we can take it that all the hype was for nothing.
Now how did they come to identify the skull as belonging to St Vitalis of
Assisi
?
Well it was either pure ignorance or by design and all possibly via an internet search and the wisdom of Wikipedia.
If by design, it might be suggested that the reference to a saint and genitals would have guaranteed a princely sum and increased interest.
Decide for yourselves.
St Vitalis of
Assisi
's relics rested in the Cathedral of San Rufino in
San Vitale, Italy
, southeast of
Assisi
until 2001 when they were returned to their original resting place in Viole di Assisi.
Church of St Vitalis of Assisi, Viole di Assisi, where the relics of the hermit saint
are now preserved and venerated
So who was this St Vitalis?
It may be that of St Vitalis the martyr.
Now there are a number of known martyrs with this name.
The most famous is St Vitalis of
Milan
, husband of St Valeria and father of SS Gervase and Protase, he was put to death for his faith in the 1
st
or 2
nd
centuries by being buried alive with a pile of stones put on his head.
I notice some news reports try to merge this martyrdom with St Vitalis of
Assisi
.
The martyrdom of St Vitalis of
Milan, father of SS Gervase and Protase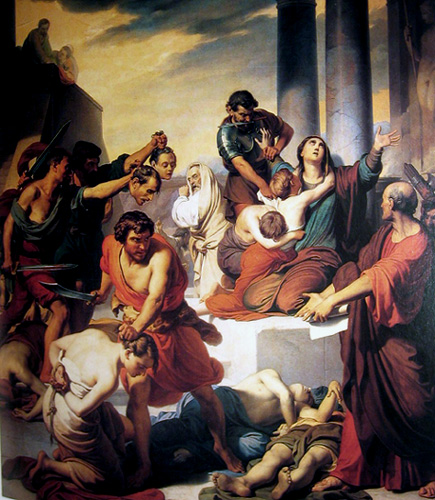 St Felicity of Rome and her seven martyred sons, one of them being
St Vitalis
Another St Vitalis is the son of St Felicity of
Rome
who was martyred with his mother in 165 AD.
A third is St Vitalis of Hadrumetum in
Africa
, who was put to death with St Honoratus and ten companions during the persecution of Diocletian in 303: he was beheaded in Vellenaio on the
29 August 303
.
Tomb of St Vitalis of Bologna, and his master, St Agricola, who were martyred in 304,
preserved in the Church of SS Vitale e Agricola, Bologna
A fourth is St Vitalis of
Bologna
, a Christian slave martyred with his master in
Bologna
, again during the persecution of Dioceltian, this time in 304: this St Vitalis was slain in the amphitheatre.
There is also mention of a St Vitalis who was martyred in the persecution of the Emperor Decius in 250 AD.
Or it may be the relic of another Vitalis who perished in one of the persecutions.
There are numerous martyrs, many of them unknown, and even many whose names were unknown but given a name to assist devotion – for example there is a clatter of St Victorias, Martyr: we do not know these women's names, but they are venerated for their victory for Christ.
So this Vitalis could be an unknown martyr and just given the name or, indeed, the relic could just be a fake.
So how did an Anglo-Irish family come across this relic?
It has been proposed that an ancestor picked it up when on the Grand Tour.
For those of you who do not know about the Grand Tour, it was, simply, the rambles of rich young gentlemen around
Europe
in the 18
th
and 19
th
centuries to finish off their education.
It started as a means of completing a Classical education, bringing these young aristocrats to the ancient sites of antiquity:
Greece
,
Italy
,
Turkey
and
Egypt
.
That's how it started.
By the middle or end of the 19
th
century it had become the upper crust boy's prolonged booze-up across the flesh pots of Europe where a quick glimpse of the remains of ancient Rome led to an drink and drug fuelled evening in the arms of a lady (or lad) in a local brothel.
On these trips the young gentlemen did pick up souvenirs, though, to be honest, the relics of a Catholic martyr would not be expected to be among the objects brought home, not for Anglo-Irish Protestants who were not too fond of things Catholic.
So how did it end up with this family?
Perhaps the ancestor was interested in things Catholic and managed to secure the skull.
Now the skull could be a fake, a quick visit to the local charnel house and a bit of DIY by a local artisan with a percentage coming his way, might have satisfied the desire.
If it is authentic, however, there may a few explanations as to how it ended up in the luggage home to
Ireland
, although one may be disturbingly possible.
No Catholic church, priest or religious community would hand such a major relic over to a Protestant gentleman regardless of who he was.
The skull may have been either spirited away by a corrupt official or sacristan for a nice tidy sum, or the future owner took matters into his own hands either as part of a jape or out of avarice – either way it is possible that the relic, if authentic, was stolen from a Catholic church.
We will never know.
All we know is that it ended up in a Co. Louth house, then bunged out into a shed, and now has been sold on the open market.
Not a savoury story at all.