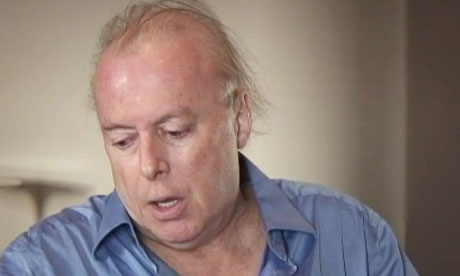 As no doubt you know the writer Christopher Hitchens has died, succumbing to cancer. It is said he died nobly, passing away writing, which was the joy of his life.
I am deeply saddened by his death. He was a man with great talent and ability, but one who used it to denigrate not only those who believe in God, but even God himself. I hope and pray that in those milliseconds before his death he encountered God and embraced Him, seeking reconciliation and mercy.
He had a particular hatred for Blessed Teresa of Calcutta: his book Hell's Angel was an attack on her mission and her life of service to the poor. I think it caused Blessed Teresa some suffering, but I have no doubt that she was moved to pray for him and for his conversion. I have no doubt that when she entered heaven she was praying for him with great earnestness: may her prayers produce much fruit.
Ironically, while Christopher was lolling in his atheism, his brother, Peter, had a conversion and is now a great defender of faith in general, and of the Christian faith in particular, of which he is a member - he is a member of the Church of England. I have no doubt he too was praying for his brother.
Let us pray for them all: that the Lord will grant mercy to Christopher and consolation to his family. We commend them to the intercession of Blessed Teresa of Calcutta.